Children in Gaelscoil na Douglase really enjoy music. Music is taught in every class in the school. Everyone can give the tin whistle a go from 2nd Class onwards. Sometimes well-known musicians visit the school. John Spillane performed for Seachtain na Gaeilge and on many occasions we have had some overseas visitors as part of the annual Cork Jazz Festival ,the most recent being the Lamorotte from the Netherlands.
Choir
Gaelscoil na Dúglaise has a wonderful choir. They are an integral part of school occasions. Pupils from 5th and 6th classes are usually in the choir. The choir regularly sings at coffee mornings for parents and visitors to the school. They performed for the Lord Mayor, the Taoiseach and John Creedon recently. They are on stage in the City Hall every year at the Cór Fhéile.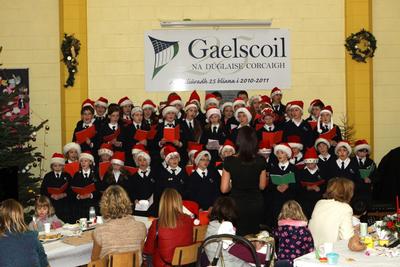 College of Music
The City Music School provides after-school classes. A music literacy class (Music Bugs) takes place every Wednesday. There is a wide selection of instruments from which to choose.The pupils are prepared for examinations for the Royal Irish Academy if they wish. holds an annual concert in Gaelscoil na Dúglaise.
Traditional Band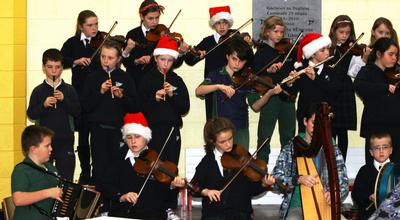 Gaelscoil na Dúglaise has an excellent traditional group.Children from 2nd – 6th are involved. The instruments that can be heard are the violin, the flute, the tin whistle, the concertina, the banjo and the bodhrán. The group reaches a high standard. They also take to the stage at the Cór Fhéile in the Cork City Hall. The band regularly plays at coffee mornings for parents and visitors to the school. Do you recognise any stars here? You're right! That's Cian Ducrot playing the flute!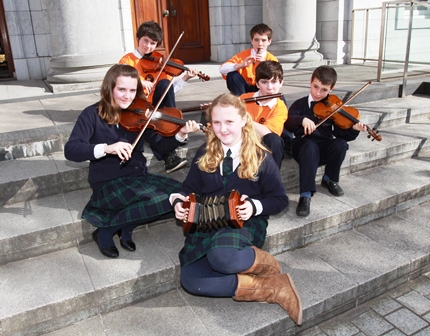 Instrument Tuition
After school classes are available in the following instruments :
Piano
Violin /Fiddle
Concertina
Tin Whistle
Ukulele
Cork School of Music
A teacher from the Cork School Music visits every Monday to teach violin using the Suzuki method. Children may begin in Senior Infants. The children make great progress. They have an opportunity to attend workshops throughout the year along with performing at concerts.