Sport plays a very central role in Gaelscoil na Douglase. A wide range of activities are offered.
Football, Hurling and Camogie
Gaelic football, camogie and hurling are in great demand at Gaelscoil na Dúglaise. The children get many opportunities to get a taste of our national games.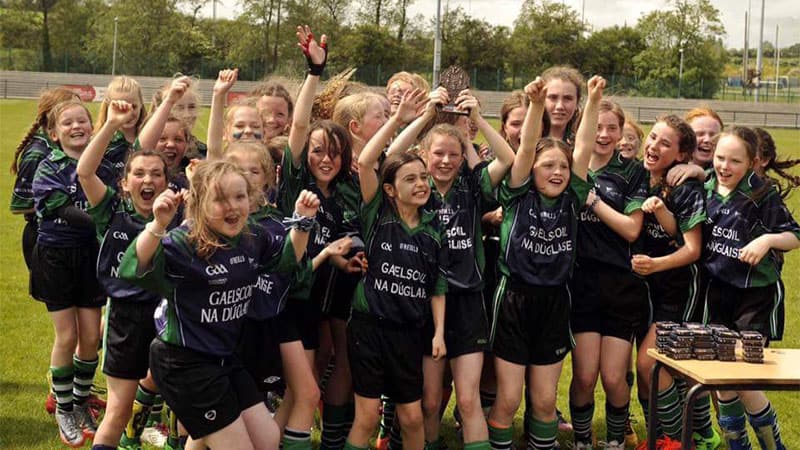 The girls have football training on Wednesday evenings with Múinteoir Aidan and Múinteoir Kim . The girls also play camogie on Fidays with Oliver McAndrew an experienced coach . Múinteoir Marc and Múinteoir Harry lead the hurling with 5th and 6th class boys every Tuesday and Thursday.
The children take part in the Sciath na Scol Competition for primary schools in football and hurling/camogie every year. It is a great honor for the school when the children play in Páirc Uí Rinn and Páirc Uí Chaoimh . Gaelscoil managed to win the championship in camogie for the past 2 years in a row and the boys footballers have also won the title in recent years . Our silverware looks great in the school reception area.
There is a great enthusiasm for Gaelic football, hurling and camogie in Gaelscoil na Dúglaise and the pupils consequently achieve many awards for their efforts at our national games. We enjoy a very close relationship with the local Douglas GAA Club.The children participate in friendly inter-school blitzes on a regular basis.
Athletics
s Múinteoir Éamonn and Múinteoir Marc prepare the children to take part in the City Sports Day in MTU every June. They bring home medals every year.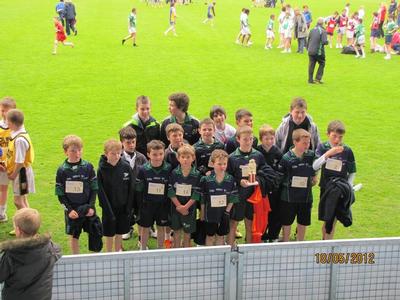 Individual running races are involved as well as relay races . More often than not, a child from our school reaches the County Championship. This is a great honour for us.
Children regularly get the chance to test their athletics skills during PE lessons as well as during our annual Gaelscoil na Dúglaise Sports Day in June.
Rugby
Children from Gaelscoil na Dúglaise are interested in rugby. Representatives from the IRFU come to us to do the training for the teachers from time to time and it's all great. The children have had the opportunity to play organised blitz competitions in Independent Park many times.
Gaelscoil na Dúglaise is very proud of our former student, Lúc MacGeralt who has helped Ireland to win the Grand Slam and also traveling on the Lions tour. Lúc launched 'Seachtain na Gaeilge' in 2009 at the school.
Famous visitors have also come to the school, including Peter Stringer and Donncha Ó Callaghan .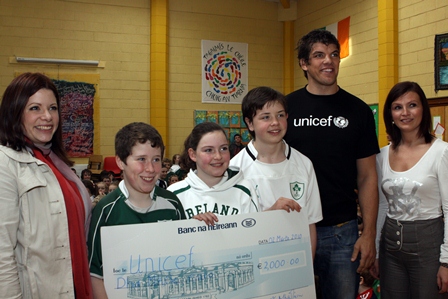 We are delighted that Cathal O Coinn , a former student, played for Ireland for the first time with the Ireland Clubs Team on 9th March 2012.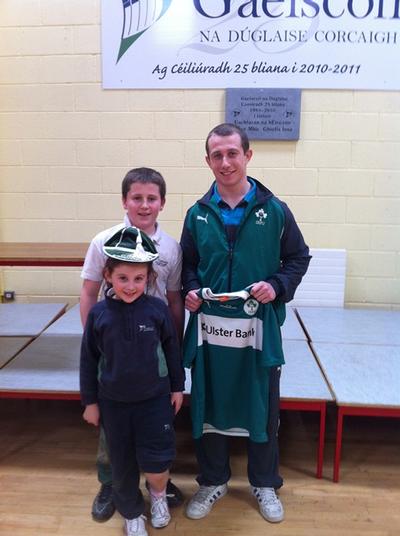 Tennis
There is a great demand for tennis classes in Gaelscoil na Douglais. They are attended by children from Infant to Class 6 classes . Up to seventy children are playing tennis on Tuesdays and Thursdays .
Great emphasis is placed on enjoyment and skill development in the classes. The tennis courts are used in the summer.
Conor Clarke is a fully trained trainer from Bishopstown Academy who is in charge of the classes. Conor also organizes a tennis summer camp in the Gaelscoil.